Big wheel scooters are another category of electric scooters available in the bike market. Scooters in this category have tires that are 8 inches, 9 inches, even above 12 inches. Most of the big wheel scooters have tires that are not only large in length but also in width.
After experiencing the small-wheeled scooters, I know it would interest you to know how those with big-wheels worked. And I can assure you, riding any big-wheeled scooter gives you a different kind of thrills. A good number of them come with seats to give the rider a comfortable riding experience.
I have selected some of the best big-wheeled electric scooters you would come across in the bike market.
MotoTec Mad Electric Scooter
The MotoTec Mad is one of the ferocious creations of the MotoTec company. It was built for rugged adventures. It comes with tires 14 inches high and 6 inches wide tires. While this may look big, it is small compared to some other scooters listed here. The MotoTec Mad can reach speeds of 24mph on a single charge and it is good for just any terrain.
SwiftyONE-e
The swiftyONE-e has the largest wheels on this list. It has 16 inches pneumatic tires. One amazing feature of the SwiftyOne-e scooter is its integrated headset. Although not the fastest, it has its top speed at 15mph (24km/h). The handlebars can be adjusted to suit the height of the rider.
Zumaround miniZum Electric Hybrid Push Scooter
Hybrid scooters are few and rare to come by, but the Zumaround miniZum is one of the notable ones. It combines both electric power and leg power to reach speeds upwards of 15mph. It also comes with 12 inches tires and e-brakes which makes it a good choice for those who wouldn't mind a bit of leg workout.
Kaabo Wolf Warrior 11
The wolf warrior is an electric scooter that is way better than some moped scooters. It features high-grade technology such as inverted hydraulic front absorbers that are sure to give you a smooth ride on any terrain. Its powerful 1200 watts motor provides the scooter with speeds up to 50mph (80km/h) which is above the speed limit of scooters in the UK. The tires are 11 inches high and 3.5 inches wide. It also features the ABS braking system. All this surely comes at a great cost.
Chaos Sport
The Chaos Sport e-scooter is one of the most popular in the UK. It is the latest in the Chaos fleet and it sold out immediately it entered the market. Its tires are 6 inches high and 5 inches wide. It is foldable and folds at the touch of a button. It also has its top speed at 25 mph (40km/h).
Weped GT 50E Electric Scooter
The Weped GT 50E is one of the e-scooters that require less maintenance. The entire system of the bike was built to last, even the battery is ranged at 65 miles (104km) after one full charge. It also can travel at speeds upward of 40mph (65km/h). The durable 5.5 inches wide tires can tackle hills inclined at 50o. It also has front and rear independent brakes that make stopping easy even at high speeds.
SSR Motorsports Fat Tire Electric Scooter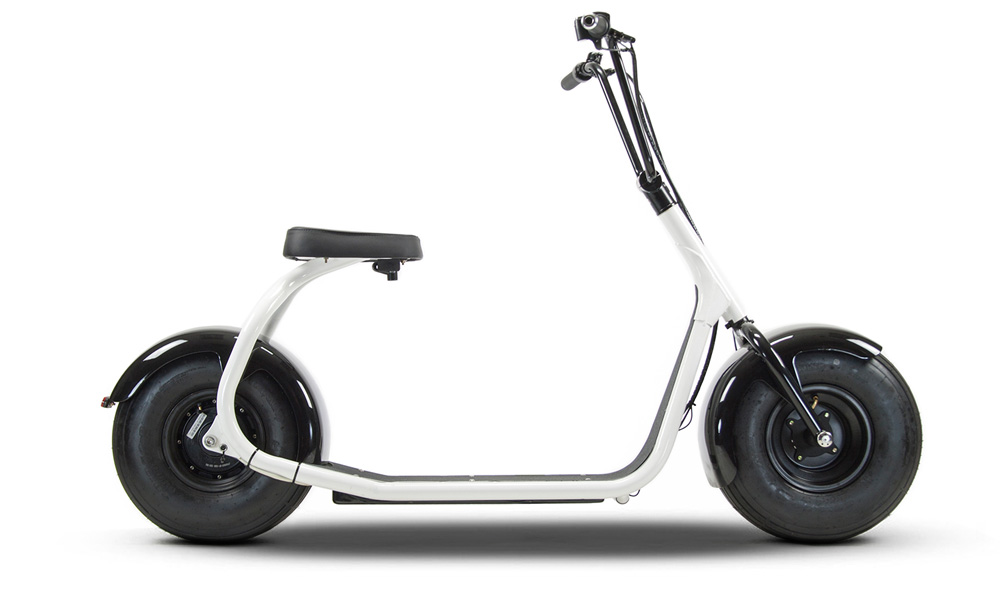 The SSR Motorsports is one of the many scooters that can self-balance. It can do this because of its 9.5 inches wide tires. The tires are tubeless and straight grain which reduces the possibility of having punctured tires. Although it doesn't have many features it's a good start for beginners. Also, on a single charge, the SSR can travel for 50 miles (80km).
MotoTec FatBoy
The MotoTec Fatboy earned its name not only from its tires but also from its entire build. The scooter is 11 inches wide, and its tire is 15 inches high and 6 inches wide. It has 500w motors that provide it with speeds of 20mph and a single charge of its battery can travel 20 miles. If you seek the best cruising experience, the Fatboy is a great option for you.
There are various options available for you when you want to purchase a big wheel scooter. you can visit scooters for sale for recommendations.